Our favourite helmet camera the GoPro HD Hero gets even better with the release of the HD Hero2
The Hero2 gets a new 11 megapixel sensor, a sharper glass lens, an external 3.5mm mic input for some on board commentary and some Wifi capabilities.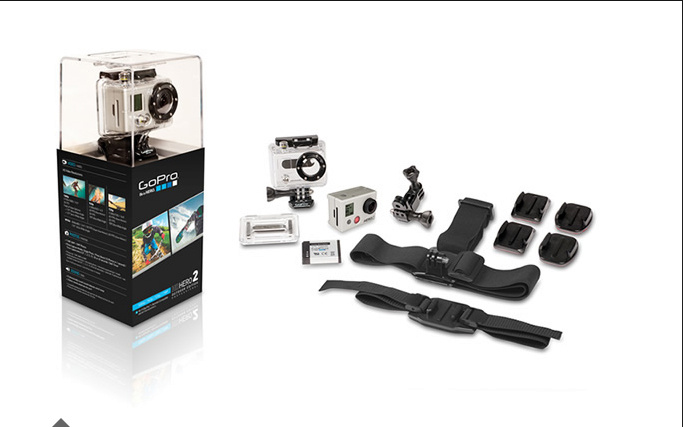 Arguably the most versatile camera in the world thanks to its innovative mounting sys-tem, renowned durability and small form factor, the HD HERO2 surpasses its predecessor with several technology upgrades. The HD HERO2′s new processor delivers twice the processing power, taking full advantage of a new high-performance 11 megapixel sensor that delivers more than twice the image detail along with professional low-light performance. A totally redesigned wide-angle lens was required to take full advantage of the HD HERO2′s increased image-processing, resulting in a lens that's twice as sharp as the previous model. And with the arrival of GoPro's new Wi-Fi BacPac™ and Wi-Fi Remote products slated for release this winter, the HD HERO2 will enable video remote control via the Wi-Fi Remote, smartphones and devices, tablets and computer, as well as enabling live GoPro video broadcast from anywhere there is Wi-Fi or a mobile hotspot.
Famous for its globally best-selling HD HERO line of wearable and gear mountable cameras, Go-Pro spared no expense developing the HD HERO2.
2x as Powerful in Every Way:
The HD HERO2 benefits from a complete redesign that results in dramatically enhanced image quality and ease-of-use:
List of HD HERO2 Feature Enhancements:
• Professional 11MP Sensor
• 2x Faster Image Processor
• 2X Sharper Glass Lens
• Professional Low Light Performance
• Full 170º, Medium 127º, Narrow 90º FOV in 1080p and 720p Video
• 120 fps WVGA, 60 fps 720p, 48 fps 960p, 30 fps 1080p Video
• Full 170º and Medium 127º FOV Photos
• 10 11MP Photos Per Second Burst
• 1 11MP Photo Every 0.5 Sec Time-lapse Mode
• 3.5mm External Stereo Microphone Input
• Simple Language-based User Interface
• Compatible with Wi-Fi BacPac™ and Wi-Fi Remote™
– Long Range Remote Control of up to 50 GoPro Cameras per Wifi Remote
– Wi-Fi Video/Photo Preview, Playback and Control via GoPro App
– Live Streaming Video and Photos to the Web
Update: Now available at Funsportz at only RM1,299 each, all versions. Find out more at Funsportz's Official Website.