The winners of this year's Eurobike Awards, organized by iF design, have been announced, and it's not surprising that e-bikes and utilitarian designs are well represented.  Read more about the 10 gold winners, and the 1 green winner at designboom.
VeloNews has been posting photos from the show, not surprisingly with a focus on road bikes. One of the bikes that caught my attention in their coverage though was this beautifully simple 3-speed belt drive De Rosa Milanino town bike. Spotted via Cyclelicious' Eurobike report.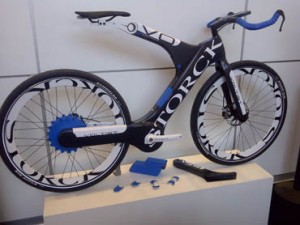 Storck's new Aero 2 time trail bike seems to be getting a lot of attention. It's a nice looking bike, but there is another one from Storck that really caught my attention. The VOLTIST (pictured here) looks like an old Softride (or TJ Tollakson's Vintage Zipp), but it is a new e- bike concept designed by Markus Storck and his team. The company's website explains:
"The bike is a 1 piece monocoque frame with interchangeable seat beam to suit different sizes. The bike features a fully enclosed drive chain, integrated Smartphone interface and fully enclosed battery with wireless locking system."
According to Ian Hughes, Managing Director of Storck Raddar UK, the VOLTIST project that has been in the works for the last 18 to 24 months. I am looking forward to hearing more about it soon, but in the mean time you can read more about it on the Pedelecs forum.